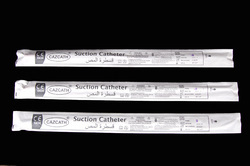 Suction Catheter
Product Description
Suction catheter application : suction catheters are used for removal of secretion from mouth trachea and bronchial tubes.
Specification : conforms to in house specifications as per international standard.
Material : the raw materials are made from following components.
Catheter tube : medical grade PVC for different size different gauge
Tube connector : medical grade pvc for different size different colour
Special features :distal end is opened with one lateral eye.
Frozen surface tubing for smooth in tubation.
Colour coded for instant identification of sizes.
Length : 52 cm.
size: fg-8fg-10fg-12fg-14fg-16fg-18fg-20
Colour code: Blue black white green orange red yellow for single use only.
Sterilized by e. T. Osterile, non toxic, non pyrogenic
Primary packing : individually packed in medical grade paper pouch.
Secondary packing : 25 pcs in h. M bag master box : different size pack in different way.
Analytical testing : a. Raw material testing. B. In process testing. Finished product testing sterility test toxicity test pyrogen test physico chemical test
Contact Us
1,2,B- Wing, 7th Floor, Groma House, Plot No:14-C, Sect-19, Vashi, Navi Mumbai, Maharashtra, India
Phone :+918037744989