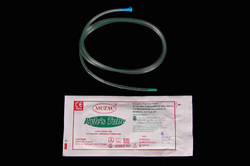 Ryle's Tube
Product Description
RYLES TUBE Product Category : Gastroenterology
Application : Specially designed for- naso gastic introduction for nutrition and aspiration of intestinal secretion.
Specification : Conforms to in House Specifications as per International Standard.
Material : The Raw Materials are made from following components.
Catheter Tube : Medical Grade PVC For Different size different gauge
Tube Connector : Medical Grade PVC for Different size different colour
Special Features :Distal end is closed with four lateral eye.Frozen surface tubing for smooth in tubation.
Colour coded for instant identification of sizes.
Length : 105 cm. SizeFG-8FG-10FG-12FG-14FG-16FG-18FG-20
Colour Code Blue, Black, White, Green, Orange, Red, Yellow For Single use only.
Sterilized by E.T.O Sterile, Non toxic, Non pyrogenic.
Primary Packing : Individually packed in Medical Grade paper Pouch.
Packing : 25 Pcs in H.M Bag.
Analytical Testing : A. Raw Material testing.B.
In process Testing.
Finished Product Testing Sterility Test Toxicity Test Pyrogen Test Physico Chemical Test
Contact Us
1,2,B- Wing, 7th Floor, Groma House, Plot No:14-C, Sect-19, Vashi, Navi Mumbai, Maharashtra, 400703, India
Phone :+918037744989